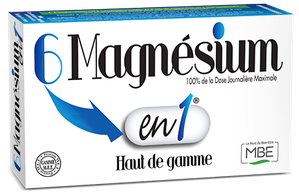 What is Magnesium 6 in1?
As its name suggests, Magnesium 6 in1 is an unprecedented combination of 6 magnesium salts in a single tablet, thus providing a multiple dose of bioavailable and highly dosed magnesium.
The application of the M.E.T process to the association of mineral salts improves your chances of assimilation!
Magnesium 6 in1 components
- 6 major sources of magnesium with high bioavailability and/or high concentration
  Magnesium glycerophosphate
  Marine magnesium
  Magnesium pidolate
  Magnesium citrate
  Magnesium gluconate
  Magnesium lactate
- Incorporating vitamin B6
- Incorporating taurine
Is magnesium deficiency commonplace?
All studies conducted indicate that magnesium deficiency is commonplace. A well-known study (SU.VI.MAX) conducted from 1994 to 2002, showed that 75% of the population have a magnesium intake which is less than two-thirds of the recommended value. As magnesium reserves are not stored in the body, a regular daily dose of magnesium is therefore required to meet the body's needs.
---
HEALTH CLAIMS FOR MAGNESIUM
Magnesium contributes to :
- the reduction of fatigue
- the normal metabolization of energy
- the normal function of the nervous system
- normal psychological functions
- normal muscle function
- the maintenance of normal bone structure
---
Use of magnesium
One tablet of Magnesium 6 in1 during breakfast and dinner with a little water provide 100% of the recommended daily dose. (according to the French regulation)
- Reminder : vitamins and mineral salts must be consumed during meals!
- The recommended daily dose should not be exceeded. Keep out of the reach of young children.
- Our product does not replace a varied and balanced diet, and should be taken as part of a healthy lifestyle.
What else do I need to know ?
Magnesium 6 in1 has been declared compliant with the most recent legislation governing the manufacture and distribution of foods supplements.
Magnesium 6 in1 is part of Minerals Easy Transport range, which also includes Calcium 6 in1 and Iron 6 in1 products of a similar type.

Information published by ourselves is compliant with regulation, but does not constitute a prescription for the care or treatment of medical conditions.

---